FISH GAME
Please give food fish in the pond
The World Ocean Conference (WOC)
The world `needs to be aware' of the importance of oceans
The World Ocean Conference (WOC), to be held from May 11 to 14 in Manado, North Sulawesi, will discuss oceans in relation to climate change. With more than 70 percent of its national territory consisting of water, and playing host to the event, Indonesia hopes the conference of over 120 nations will produce tangible outcomes to assist its 17,000 islands in countering the impact of global warming.Sahala Hutabarat,a professor in oceanography from Diponegoro University in Semarang, Central Java, talked with The Jakarta Post's Erwida Maulia last week. Hutabarat is the current head of the Maritime Affairs and Fisheries Ministry human resources department.
Question: How will global climate change affect Indonesia's marine resources?
Answer: Geographically, Indonesia consists of 73 percent water and 27 percent land. We have more than 17,480 islands and our coastline stretches as far as 95,181 kilometers. This means we have the fourth longest coastline globally after Canada, the United States and Russia. We have huge potential in maritime and fishery industries. In the maritime sector, there are mining resources such as oil and gas, tourism potential and biotechnology and pharmaceutical possibilities. We also have seaweed, which can be planted along Indonesian shores. Then there is the huge market for fish, both saltwater and freshwater, as well as the wider marine environment. This includes our mangrove forests and coral reefs, which play important roles indicating the fertility of sea water.
The impacts of global warming in Indonesia will become very evident as we are an archipelagic state. Increasing temperatures causes the ice poles to melt, which will significantly impact our thousands of islands. Our coral reefs will be effected as they can only thrive in temperatures between 25 and 30 degrees Celsius. Reefs can also only really survive at depths between 10 and 15 meters, in clear water with relatively strong light penetration.
Global warming causes bleaching- a condition where coral reefs are killed because of undesirable sea conditions. The marine life relying on these reefs are also killed when bleaching occurs.
Indonesia has the potential to catch around 6.4 million tons of saltwater fish every year but only manage to take in around 80 percent of this. If coral reefs are damaged, then the intake will be even less.
What does Indonesia expect from the WOC then?
With the World Ocean Conference in Manado, and the Coral Triangle Initiative (CTI) Summit *also in Manado, scheduled for May 15*, we hope the global community will become more aware of the importance of oceans to the lives of human beings. The WOC will talk about the significance of oceans while the CTI Summit will discuss coral issues. Both are very big events. The earth, like Indonesia, consists of 70 percent water and 30 percent land areas, so water is extremely important. Water can affect the climate. If ice in the poles is melting, sea levels will rise and change everything. So this awareness should not be shared by Indonesians only. We hope the WOC will produce a joint agreement on protecting oceans and we hope a special body will be formed within the United Nations in the future to cope with marine affairs. We have the FAO, UNICEF, the UNEP... Why can't we have a special body to handle maritime affairs, when 70 percent of our earth consists of oceans.
What role should such a body play?
To control matters related to oceans, such as preventing seawater pollution and offshore mining activities from impacting negatively on seas, and to regulate the use of harbors. We will have to lobby other countries for the establishment of this special body. We don't expect a decision to be made in Indonesia *at the WOC*, but with everybody coming together, we hope there will be follow-up meetings on this issue in the future. Indonesia has also been suffering huge losses from fish poaching. Will the WOC also address this issue? Yes. Last year we lost about US$2.6 billion to poaching. We hope the WOC will proclaim it an international crime, maybe at the same level as money laundering. As the head of the Maritime Affairs and Fisheries Ministry human resources department, what will you do to anticipate the impacts of global warming on Indonesia's marine and fishery potential? We will intensify our education programs for fishermen and other coastal communities, many of whom still use explosives to catch fish, resulting in significant coral damage. Many also freely cut mangrove trees, threatening our fish reserves. We will educate them on methods of farming, catching and processing fish, environmental issues, including the *dangerous* use of explosives in dynamite fishing. To date perhaps only 10 percent of people have been educated about these matters.
http://www.thejakartapost.com/news/2009/04/07/the-world-needs-be-aware039-importance-oceans.html

DEEP INDONESIA 2009

ANCHORING INTO THE MARKETS OF THE WORLD'S LARGEST ARCHIPELAGO
The most spectacular marine event in Indonesia is now in preparation for its third show., DEEP Indonesia which was held in March 2008 was only the second show but already achieved astonishing results with increases in the number of participants and visitors alike with 80 local and international Exhibitors and more than 10.000 visitors, a forty percent increase compared to the first show.
The 3rd show, DEEP Indonesia 2009 will be held on 27 - 29 March 2009. Jakarta - as the capital city of the world's largest archipelago country - has proven to be the perfect place for DEEP Indonesia 2009 with a huge potential to be the leading market in the territory and providing tremendous opportunities for business networking.
As the largest international diving, adventure travel and water sports exhibition in the country, DEEP Indonesia 2009 will ensure higher exposure and a greater market audience.
IT MUST NOT BE MISSED !

MUCH DEEPER THAN EVER – A POST SHOW REPORT
PT Exhibition Network Indonesia would like to thank all exhibitors of DEEP Indonesia 2008 for helping to make this year's event an even greater success than the first exhibition held last year.
The number of exhibitors increased to 80 with space taken also increasing by more than 25%. We also had more coverage in the water sports area with displays on fishing, kayaking, boating and surfing taking part in the show.
The first foreign Tourism Board to join DEEP Indonesia 2008 is the Sabah Tourism Board which add to the quality of the show as an international exhibition. There was also an increase in the number of tourism boards from local Regencies taking part with diving and water sports areas from Aceh to Papua and all areas in between being promoted, a testament to the importance these government agencies attach to expanding their efforts in marine tourism growth.
The number of visitors during the three days show also increased significantly with 10,250 people having registered , an increase of nearly 45% over last year's show.
The show was officially opened by the Director General of Indonesian Department of Culture & Tourism, Mr. Firmansyah Rahim representing the Minister who was unable to attend due to unexpected circumstances. In his written message, he confirms that the ministry will continue to support the organizer in helping to promote and develop marine tourism industry. Accompanying him was Prof. Syamsul Ma'arif representing Minister of Marine Affairs and Fisheries who is also as the present Chairman of Indonesian Sub Aquatic Sport Association (POSSI). Unfortunately, the Minister was also unable to attend but conveyed his written message to initiate the International Year of the Reef 2008 (IYOR ), a campaign to increase awareness and understanding of coral reefs, and to further conserve and manage valuable coral reef and associated ecosystems.
The Opening Ceremony at the first day of the show was attended by approximately 200 invitees, including exhibitors representatives, business associates, government officials, and state representatives, among them was the Ambassador of the USA, H.E. Mr. Cameron R. Hume.
As held last year, our supporting events SCUBEX, a large tank that we purposely built as a diving trial for non divers, had attracted more enthusiasts this year. The DEEP Underwater Film Festival in association with Celebrate the Sea Festival, as the perfect tool to show the beauty of the underwater world, featured Award Winners of Celebrate the Sea Festival and specially screened the most talked-about "Sharkwater" at the second day of the exhibition.
The Children's Drawing & Coloring Contest as a concept to nurture and educate the children to the marine conservation were joined by almost 100 entries this year.
Our Seminars, Talk Shows, Workshops, Product Presentation program was expanded with a large number of presentations being given by government bodies, diving associations, equipment manufacturers and many others, with more than 1000 people in attendance.Underwater photography was given quite a portion this year. The well known DEEP Indonesia International Photo Competition in cooperation with DivePhotoGuide.com and WetPixel.com featuring 35 winning images of 7 categories. It had the same number of entries as last year however the international judges noted that the quality of the entries had shown a great improvement. There was also "UW Exposed" - an exhibition of underwater photo by Indonesian UW Photographer. A soft launch of the book "Nadine" by photographer Windiarto Tjandra and publisher Scuba Diver AustralAsia truly escalates Indonesian UW Photographer to another level of UW photography.
Our new event, the Digital Poster Competition attracted 300 entries with the 20 finalists being on display, this new event was restricted to university students and has been judged to be an excellent concept in promoting marine conservation amongst the new generation. The best entries will be used as COREMAP's campaign for coral reef conservation and rehabilitation.
To welcome all exhibitors, the DEEP Indonesia Team prepared a Welcome Dinner Party hosted by the Department of Culture & Tourism Republic of Indonesia. The party which entertained by a special traditional dance performance was attended by approximately 200 invitees having an excellent evening.
Government Ministries now recognize the importance of DEEP Indonesia to marine tourism and environment, especially the ocean environment in Indonesia through their increased support for the event and we are optimistic that this will continue to expand in coming years.
Last but not least, this year's Best Stand Design goes to Suzuki Marine (stand no A3). As a token of appreciation, Suzuki Marine will get 5 (five) hanging banners at DEEP Indonesia 2009 free of charge. Congratulation to Suzuki Marine!
We would like to take this opportunity to apologize to any exhibitors and visitors that may have been inconvenienced before and during the event in any way, please rest assured that we will continue to improve our services to you to ensure that next year's DEEP Indonesia 2009 will be an even greater success.
We would also like to express our appreciation to all our Sponsors, Media Partners and all parties that has given their valuable time and effort to the success of DEEP Indonesia 2008. We hope this will continue to ensure the success of DEEP Indonesia in future years
http://www.deepindonesia.com/2009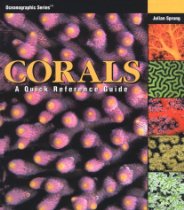 Corals : A Quick Reference Guide
(Oceanographic Series)
By Julian Sprung
A comprehensive field guide for aquarists, divers and naturalists, with detailed full color photographs of hundreds of species, encompassing the majority of coral genera one is likely to encounter on reefs around the world, This book defines corals and distinguishes them form similar hydrozoans, zoanthids, and corallimorpharia. The corals are described and compared to similar looking species, and their range and the correct pronunciation of the Latin name is given. In addition, for aquarists who grow corals in reef aquariums, information is provided in quick reference charts concerning each coral's requirements for light, water movement, and food, hardiness in captivity, aggressiveness toward other corals, and proper positioning in the aquarium. More detail.....
Blue Lagoon TROPICAL FISH Bathroom TUMBLER cup
The Blue Lagoon Collection features the wonderful bright colors of a tropical underwater world, set against a background of azure blue water. Each piece is created to look three dimensional. For a true and realistic looking tropical lagoon bathroom, this design is perfect. Perfect for both kids and adults.
These beautiful ornaments from Blue Ribbon are handcrafted and textured to create the most stunning and realistic looking aquarium atmostphere. Amazingly colorful and bright, these ornaments will draw attention to your tank. Your fish will love the new place to hang out. For even more cool style, add an airstone and watch the bubbles billow out of the specially placed openings in the ornament. Non-toxic.
Reef Secrets: Starting Right, Selecting Fishes & Invertebrates, Advanced Biotope Techniques
By Alf Jacob Nilsen, Svein A. Fossa
Reef Secrets makes sense... What a great cut-to-the-chase reference for the reef hobiest. The selection guide is very helpful, especially if you are concerned about compatability or just want to develop a specific region in your own reef tank.
Interesting, but ... As a beginning reef aquarist, I enjoyed reading this book, but I am not sure it is a practical book for the novice.
Some of the advice it gives seems designed for the advanced hobbiest who has little need for the book. For example, it advises no more than about a 10% water change each year. That is probably enough for an established, well-maintained aquarium in service for a couple of years already, but I doubt it is a regime suitable for someone just starting.
The authors' advise seems to defy conventional wisdom in other areas. The suggested Ph paramaters, for example, vary from anything I have seen elsewhere. Perhaps that's why they are called reef "secrets". Or perhaps they are just "typos"
Interestingly, the book presents a photo of what it bills as one of the finest amateur marine aquariums anywhere. I went on-line to learn more about that system and learned that the owner has a maintenance regime and water paramaters at odds with the recommendations in this book!
Still, all in all, an enjoyable and well-informed read. It's just not a suitable "how to" book for most of us. On the other hand, the section at the end on species selection was very useful.
Very good book for beginners... Very good for beginners. Covers all important topics. Very simple language, without technical jargon which is often overwhelming people who just starting with hobby. Very nice stocking guide and chapter about biotops which is not found often in similar position.
I recommend it to anyone who thinks to start with reefkeeping hobby.
Aquarium Pharmaceuticals pH Up

From Aquarium Pharmaceuticals
Foreign material such as fish waste, dead vegetation, gravel, aquarium rocks, coral or heavy aeration may cause changes in pH levels. Therefore, the pH level should be tested every week. The following pH levels are recommended for freshwater tropical fish: Egg-laying fish: 6.6 to 6.8 (slightly acidic) Community aquarium: 7.0 (neutral) Live-bearing fish: 7.2 to 7.6 (slightly alkaline) Directions For Use Use Aquarium Pharmaceuticals Freshwater pH Test Kit to determine the pH of aquarium water. To raise the pH, add four drops of pH up for each gallon of aquarium water. Take another pH reading before making the next addition of pH Up. If fish are present in the aquarium, do not change the pH more than 0.2 in any 24-hour period (for example, from 6.8 to 7.0). For freshwater aquarium use only. Danger: Contains sodium hydroxide (EINEC No. 215-185-5). Causes severe burns. Keep out of reach of children. Avoid contact with eyes, skin, and clothing. In case of contact with eyes, rinse immediately with plenty of water and seek medical attention. If on skin, flush with water for 15 minutes. Remove contaminated clothing. In case of accident or if you feel ill, seek medical advice immediately (show label where possible). May be fatal if swallowed, do not induce vomiting. First Aid Treatment: If swallowed, give large amounts of water or vinegar and call a physician or poison control center immediately.
Customer Reviews
Ignorance is not bliss; it is cause for concern
Perhaps this would be a satisfactory complement to the arsenal of the novice aquarist who desires a simple solution to a potentially complex problem and who has no other pets and no children or grandchildren. For the rest of us, who arm ourselves and defend our family members--finned, furred, or bipedal--with knowledge, this product is unsatisfactory because the chemical composition of the contents of the bottle is not printed on the bottle's label. Assume that the box and its enclosed insert were dropped into the aquarium (by the small child who was to learn compassionate responsibility by caring for the fish) and were thereby rendered useless years ago. What should be done if--God forbid--the nurse on the other end of the phone line asks what chemical was ingested? The space that was taken up by instructions (in three languages) to read the insert that is no longer readable could--and should--have been used instead to identify the composition of the chemical in the bottle.
AQUA COLOR UL Aquarium Light
From Hydor
- This item is a member of the Hydor Aqua Color Light collection. The following description pertains to the collection and may not be relevant to this particular item

AQUA Color is the unique lighting system that allows you to decorate your aquarium with amazing coloured effects that are visible night and day. Acqua Color is ideal:
* To decorate tropical, marine and fresh water aquariums with coloured lights
* To create striking and unique night effects in both aquariums and terrariums
* To guarantee a safe night-light in your aquarium
* As a night light in children's tanks or bowls in their rooms!
Available in different colors:
Features
Safe color illumination for Aquariums
LED lights
Wide rotation and easy adjustment
Safe in and out of water
Suitable for marine, tropical aquariums and terrariums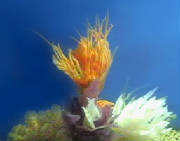 Status Review Of Indonesian Marine Ornamental Fish Trade
Sustainability of diverse marine ornamental fish has been threatened lately by unresponsible practice of explosive and poison fishing by Indonesia fishermen. And even the national newspapers, radio, TV, the Indonesia government reissued a decree reminding that fishing with explosives and poison is illegal, it is still widely practiced until now. Introduction
Indonesia is the world's largest coral reef nation, with over 50.000 square kilometers of reefs (18 percen of the world total) extending nearly 5.000 kilometers from east to west, and harboring over 17.000 islands. Indonesia 's tropical coral reefs are inarguably amongst the richest environment on Earth, rivaling the tropical rainforests in biodiversity. About some 4000 species of fishes are believed to live on the world's coral reef. It touches on both the Indian and Pacific oceans as many seas, including the Andaman, Java, South China, Sulawesi, Banda and Arafura Seas. This same country has a vast array of coral reefs, many poorly described or completely unknown, while it completely straddles the region with the greatest reef biodiversity in the world. For the purposes of this account the physical and biological description are subdivided into a number of geographic sub units, while human and socio-economic issues are considered together for the entrire country (Spalding.et.al 2001).
Sustainability of diverse marine ornamental fish has been threatened lately by unresponsible practice of explosive and poison fishing by Indonesia fishermen. And even the national newspapers, radio, TV, the Indonesia government reissued a decree reminding that fishing with explosives and poison is illegal, it is still widely practiced until now.Developing Stories Trade of Marine Ornamental Fish in Indonesia
Since the introduction of the Aquarium from naturalist England Hendry Goose at 1953, marine ornamental fish has become favorite after that time and after World War II and human think about trading (Bonti-Bonti 1980). Long time ago Ornamental fish were sent with porcelain jug (Guci) and transported by cargo. At that time it took several weeks for transportation that caused high mortality. In Europe they used trains for transporting ornamental fish to another countries. They used cans for the packaging but the mortality was still high. At the time the center of Trading was Germany. After World War II stock and market center were moved to Singapore (Bonti-Bonti 1980). And the technic has increased to Packing technical, with the invention of the plastic material Ornamental fishes were packed in plastic and filled with oxygen. For transportation they used Plan, which caused the plan become speed and low mortality risk.
Ornamental fish Indonesia Club was established in the 1960, but the instability situation in Indonesia at that time dispersed the club. At 6 June 1976 Aquarist Society of Indonesia (ASI) was formed with D. Ashari (secretary jendral ministry of Foreign Affairs) as the chairman, Ir. A. Dwiponggo (vice chaiman), Ir. Juni M. Jarman (Secretaries), Hamingkubuwono IX and Tojib Hadiwijaya (Ministry of Agriculture), Letjen H. Ali Sadikin as the advisors (Bonti-bonti 1976). Trade of marine ornamental fish is increasing now because increasing the demand from local consumer and international consumer like Singapore, France, Japan, USA etc. On 1972 it was very difficult to get marine fish at Jakarta. Collecting marine fish was impossible to success as Digdo Yuwono's experience when he tried to build ornamental marine fishes collector farm. Even Digdo Yuwono was laughed by others. But he got success and know how to care ornamental fish.
Lately, the quantity of ornamental fish trade more less 280 species (DKP, IMA dan Telapak 2001), 367 species (NAFED 2002), 622 species (CV. Pacific Bali 2001). Ornamental fish trading is centered in Jakarta and Bali, mainly for export. This is especially because of the availability of direct flights to destination countries in North America and Europe. Ornamental fish are exported through Ngurah Rai airport, Soekarno-Hatta airport. Besides the two cities mentioned above, there are 3 other export gates with smaller export volume, which are Solo, Medan and Makasar. The exports from Solo and Medan transit in Singapore, while the export from Makasar is carried through Bali (DKP, IMA dan Telapak 2001). For local market, the biggest trading center for ornamental fish are in Jalan Sumenep-Central Jakarta, Pasar Minggu-Jalan Sumenep, Jalan Barito (Blok M), jalan MT. Haryono (front of Hero Mall), and many others. The local market is oriented more for the supply for aquariums in stared-hotels, shopping centers, office buildings and the private collection of the upper class. The lower class is less interested in this type of fish due to the difficulties in maintenance and regular supply of seawater that make them costly. Several traders from Jalan Sumenep admitted that the types of ornamental fish sold to the local market are lower in quality compared to those for export. Powder blue tang and emperor angelfish receive the least interest due to their high price.Fishing gear of Marine Ornament Fish Indonesia
Bubu trap, barrier net, scoopnet and fishing line are variety of fishing gears that have been used by fishermen since long time ago, but lately these gears have been forgotten replaced by the use of blast fishing; cyanide fishing, muroami and trawling which are easy to operation and harvest more fish.
a. Bubu trap
Bubu trap is traditional tool made from bamboo, rotan trap, and nowaday use the wire, locally known as bubu, is widespread throughout Indonesia reefs fish. As described above, this gear is experiencing a resurgence of popularity due to its use in the live reef food trade. Bubu trap is left under sea for 12 hour (evening) and in the morning the trapped fish are collected. Fishermen at Sumatra, java, Sulawesi and Papua are very experienced to operate this.
b. Barrier net
The fishermen use barrier net which combines with scoop net to keep marine ornamental fish together. Barrier net is commonly used to catch the fish swimming in the surface, so the fish can't swim away and enable them to be captured by scoopnet.
c. Cyanide (Potassium)
Cyanide (Potash) causes low tenacity on the captured fish. Around 80% of ornamental fish and 50% of food fish died in retainer and during transportation from the fishing areas to the buyers. The effort to eradicate potash by using fresh water or by giving antibiotics, such as tetra, does not help much. As a result, the players of the trading of live reef fish try to get more fish to fulfill the order. Capturing fish without the use of cyanide, though difficult, will result in having fish which stay alive longer, (with longer tenacity), a lower mortality rate, and at the end more profit is gained. Some consumers also prefer fish which are cyanide free. The marine ornamental fish which are free of cyanide have longer tenacity.
Price Structure of Marine Ornamental fish Indonesia
Reef fisheries trade in Indonesia for ornamental fish is delivered to the collectors, who usually are the owners who provide loan to the fishermen, for operational cost of the ship, including for gasoline, food, etc. The fishermen then return the loan by delivering their capture to the collectors. The flow continues until the fish arrive at the exporters. It is believed that within the capital provided.
There are several systems for purchasing fish used by collectors or exporters. First, wholesale system in which collectors or exporters purchase all types of fish captured, regardless of their species or conditions. Second, order system, in which collectors or exporters have placed their order on specific species of ornamental fish. The first system would sometimes cause the collectors or the exporters to try to sell all goods quickly, to avoid them being in retainer for a long period of time, that could cause them to die. There are also fish that are not sold well in the local market.
In the reef fish each businessman is responsible for the costs of manpower, handling and transportation, profit, tax and levies, and the risk of having dead fish. There are 2 types of tax levies, formal and informal. Formal levy is in the form of export tax and in arranging of export document such as for quarantine. The informal levy is varied and usually depends on the origin, the destination and the transportation system that is used. Included in informal levy is security and 'bribery. Besides the possibility of huge profit margin for the exporters, the above mentioned components cause a significant difference between the prices given by the fishermen and those by exporters for ornamental fish. The difference can reach 900%. As an example, emperor angelfish (Pomacanthus imperator) which is sold for Rp 25,000,-/fish by the fishermen to the collectors, can be exported for US$ 25.00/fish. Even in the local trader level, the difference of price can reach up to 300% (DKP, IMA and Telapak 2001). AT 1997 the potential Ornamental fish in Europe recorded USD 600 million and with population more or less 367 million and family population 92 millon. From family population more or less 2,7 million family the hobbies took Aquarium (Bonti-Bonti 1980).
Supplier and Exporter Marine Ornamental Fish in Indonesia
According to NAFED (2002) there are 40 exporters of marine ornamental fish. In Bali only 22 exporters are legal, while others are illegal and usually don't not own farm and use cargo to export (Arsonetri 2001). Indonesia Corals, Shells, and Ornamental Fish Association (AKKII) was established at August 1 1990 and is the most active exporter association in the country. Mrs. Ir.Yuni Yarman is General Chairman, Mr. Wesen D. Wirawan as Chairman I (Eksporter Golden Marindo), Mr. Suyatno as Chairman II (Ministry of Industry and Trade Staff) and Mr. Indra Wijaya for Executive Manager (NAFED 2002). Within this framework, AKKI and its members are committed to the principle of sustainable utilization of what is available.
At the same time, it also acknowledges that the existence of such resources should be useful. Indonesia Ornamental fish export 1991-1997 always increase in volume and value, The volume average 13,1% per year, which values 0,6 increases with 1991 the value become 7,813 million USD and 1997 was 9,971 million USD. This data is different with statistic biro center. Three years later Indonesians ornamental fish export was fluctuative. Sometime it's low and high. For example in 1997, the value was 3,16 million USD but in 1998 was lowered became 1,48 million USD, an in 1999 become higher again 11,40 million USD (Suara Pembaruan 1998).
According to BPEN chairman, Indonesia ornamental fish export have done 52 country market in the world. The major market countries to export are USA, Germany, England, France, Singapore, Hong Kong, Holland, Belgium, Spain, Italia, Sweden, Norwegian, Malaysia, Denmark and Souht Korea. Development of Certification Marine Ornamental Fish System
Several meetings and national seminars in Jakarta, Bali and socialists from WWF Indonesia, TERANGI (Indonesia Coral Reef foundation) and Ministry of Industry and Trade The Republic of Indonesia, to the Fishermen, Collector and Exporter show strong power to improve the management healthy Coral reefs as habitat Marine Ornament Fish.
The Marine Aquarium Council (MAC) is an international not-for-profit organization working to ensure sustainability of the marine ornamental trade and quality within the marine aquarium industry.
The MAC Network of conservation groups, hobbiests, aquarium industry representatives, government agencies and public aquariums includes more than 2,500 individuals in more than 60 countries-and is growing. In Indonesia MAC has also cooperation at Indonesia with NGOs (Terangi, Telapak, YBN, and WWF Indonesia) Indonesia Government, Fishermen, Company and AKKI (Exporters) for implementing its mission establishing an independent certification process for those in the industry that meet
source : http://www.terangi.or.id/

This video is realize the fresh water aquarium plants made by artificial corals from Decoral products. This is sample product only.
The Contractor Supply Store - the destination for framers, electricians, plumbers, landscapers, and other contractors - is now open on Amazon. Contractors can now order professional-grade products - many of which are available in bulk quantities--on the website, via smartphone, or by calling a toll-free number. Convenient job site delivery, FREE Super Saver Shipping (restrictions apply), Two-Day Shipping for Prime members on select products (restrictions apply), and corporate accounts (approval required) make this store the destination for busy contractors.